The 11 easy self-care tips you need to try.
Lately, I've been struggling. I thought I'd flourish with our move to the Gold Coast, but it's felt anything but successful. After living in the hustle and bustle of London for the last two years, the relaxed lifestyle in the Gold Coast almost feels… too relaxed?
I'm missing my friends, my family and a previously way of life that I flourished in. Add to it the bloody disaster my knee surgery has caused me, and you've got a recipe for a terrible mindset. I'm so lucky I have Joe in my life, because this has been the biggest mental battle I've faced so far.
When times get tough, there are certain self-care routines that I've found really, really help. Some are conventional, and some are a bit weird… but they all give me this warm, fuzzy feeling that everything will be okay. Whether you're feeling burned out, a little down or just want to treat yo' self, these are my personal self-care routines that always make me feel a little better.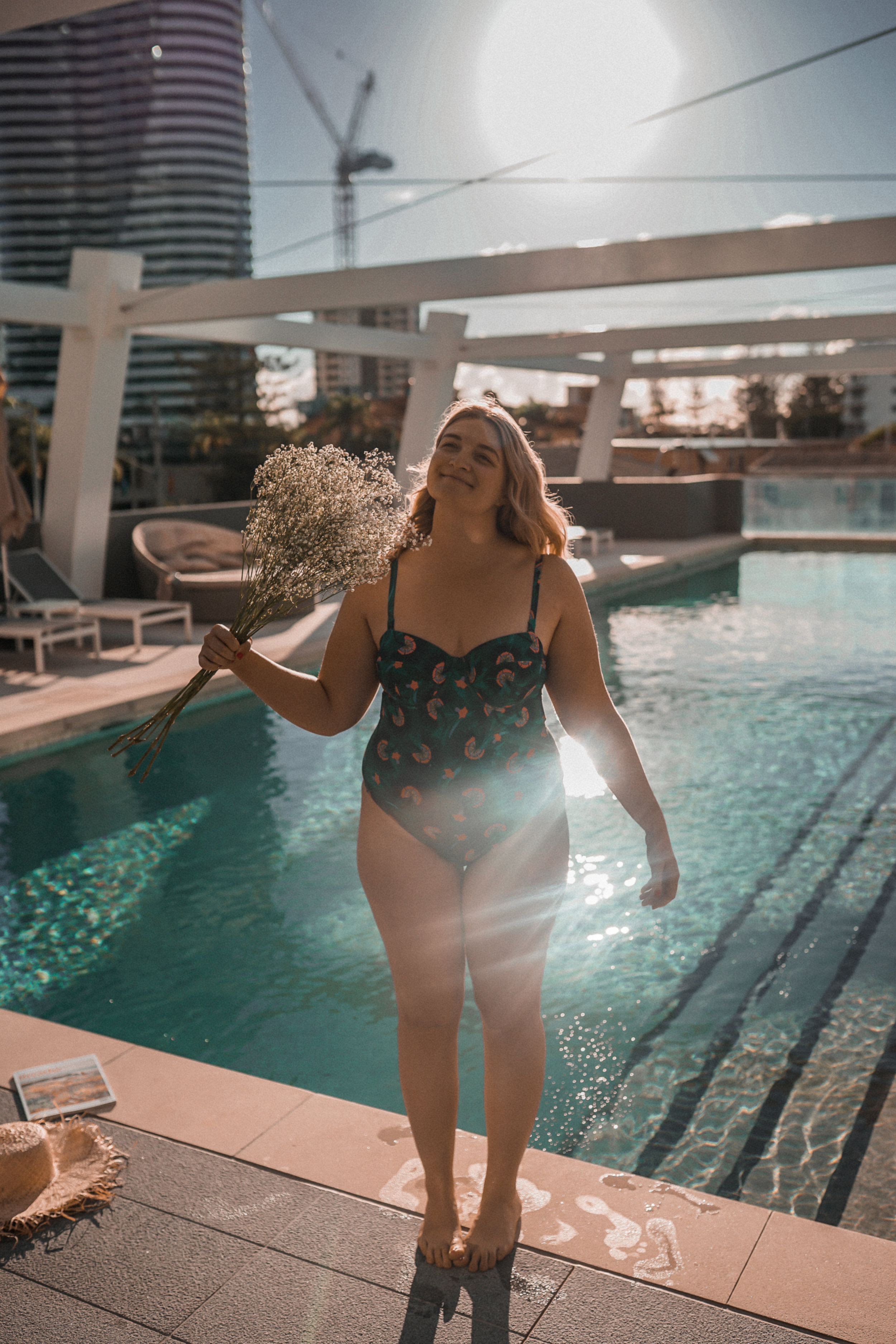 The 11 self-care tips you need to try.
How many are you already doing?
Have a soak: If you're one of those people who are like erghh baths, then this ain't for you. There is nothing that relaxes me more than a long, relaxing bath. Grab your favourite book, magazine or set up your laptop with Netflix to escape to another world. I always light a few candles, chuck on a face mask and just sit back and have a good soak. It'll instantly fill you with calm, and if you want to take that a step further, have fluffy bath robe waiting and a cup of tea afterward to continue your inner-glow.

The great outdoors: There's nothing that can physically lift your mood faster than stepping outside. Take a deep breath, bask in the sunshine (or cold grey skies if you're in London!) and look around you. I find people watching always helps to calm me down, and diverts my focus (even for a second) to my surroundings. There's nothing like the feeling of the sun on your skin, the wind whipping through your hair the taste of fresh rain.

Try yoga: If you haven't tried yoga, I cannot recommend it enough. It's an hour of pure bliss; a time to focus on your body, mind and soul. If I'm ever feeling completely overwhelmed, I find curling up into Child's Pose a fast relief. Sure, I might look like a weirdo in the office, but it instantly calms me and helps me to relax. Yoga is also a great time to focus on your mental health, and I urge you to try a class. It doesn't matter whether you're a fitness fanatic or a non-exerciser, yoga can change lives.

Turn to music: There's nothing that fixes my mood faster than blasting my favourite song and having a boogie whilst attempting to sing the words, totally out of tune. Music has been a proven stress reliever for a lot of people, and it'll be no different for you. The one song that ALWAYS cheers me up is "Send me on my way", by Rusted Root. It conjures my very favourite memories with my best friends, and I could sing the lyrics in my sleep. If that ain't working for you, nothing can change the mood quite like a Disney melody!

Go for a swim: Water has a healing power that you can't really describe. The total weightlessness of your body combined with the protective cloak of water provides the ultimate relaxation. It's a time where you can forget, and focus on your surroundings. If you're at the beach, listen to the crash of the waves and feel the sand between your toes. If you're in a pool, let yourself float along the surface, close your eyes and enjoy the peace.

Paint your nails: It sounds small, but painting your nails forces you to take a break. It's really lovely getting your nails done, but when you have to DIY you're forced to put away your phone and focus solely on your nails. Not only does it provide a mental break from social media, it leaves you feeling fresh with beautiful nails. Try giving yourself a mini manicure if you need to take relaxation to the next level, including a nail soak, cuticle oil and of course.. glass of champagne!

A bowl of pasta: This might be a more personal preference, but for me, pasta is my go-to comfort meal. It's not just the act of eating it, but making it as well. If you don't have the resources to make your own fresh pasta, you can normally buy fresh, homemade pasta from your local markets. Make a night of it with a friend, partner or family member and share the experience. I love making fresh gnocchi, spaghetti Bolognese and carbonara to name a few!

A face mask: If you follow me on Instagram @livewithelle, you'll know I'm a sucker for a face mask. I do at least two a week, and use it as a time to relax, rejuvenate and give some much needed love to my skin. I like to get dressed in my fluffy robe, chuck slippers on, and put a headband on (I always use Mickey mouse ears, ha!). This way, you'll reap the full relaxation rewards. Not only will you feel calm, but when you take off the face mask you'll feel like you can take on the world! What's not to love about plump, rejuvenated skin?!

Have a binge: One word – N E T F L I X. This is my ultimate self-care, because sometimes all I want to do is curl up in bed and become a sloth, and this is the answer. If you need a distraction, bingeing TV series is one way to quickly become invested in something other than your own problems. A few favourites of mine lately that are binge-worthy include: Wentworth, The Handmaid's Tale, Stranger Things, The OA and The Tudors.

Pat a doggo: Doesn't matter whether you own a dog or not, you need to find one to pat. Nothing cheers me up like a cuddle with an animal that just has SO much love to give. Dogs are amazing, because they'll sit beside you, cuddle you, listen to you moan and lick away your tears… what more could you want?! If you're like me and don't own a doggo, there are so many ways to get around this. If you live near a beach, lots of people walk their dogs in the morning and are more than happy to let you have a quick pat! Other places include dog parks (so not creepy turning up without a dog… at least I tell myself this!), offering to pet-sit for others and volunteering at your local shelter.

Have a doodle: Firstly, it's not that type… or maybe it is?! Whatever helps with self-care after all, HA! Drawing and painting can be a major stress-reliever for a lot of people, even if you're not super arty. If you remember the craze of adult colouring-in books a few years ago, they were on to something. Whether it's a paint brush, pen or chalk, give a new form of art a go and watch as your worries fade away.
I'd love to know your favourite self-care routines, so please do leave them in a comment below for other readers to try out as well. I hope if you're going through a tough time, you know that you're loved, and everything will be okay. My messages are always open x