CITY GUIDE: A guide to Edinburgh.
I'll say it now, if you haven't been to Edinburgh, it's a must see. The juxtaposition of the cobbled stone streets and higgledy-piggledy buildings of old town against the neatly organised buildings of New Town will take astound even the most well travelled. It's a city that will never feel the same when you visit again, whether it's during spring with the bright yellow of the daffodils spattering the Castle's foothills, or during winter with icy wind and crackling fires alight in every pub. You could easily spend weeks in the Scottish capital and not see it all, but we spent 48 hours and tried to explore as much as possible.
We were very kindly given the opportunity to try some of the best food, wine and accommodation that Edinburgh has to offer, but please note all words and opinions are my own. Here's my guide to Edinburgh, with what to do in 48 hours in the Scottish capital.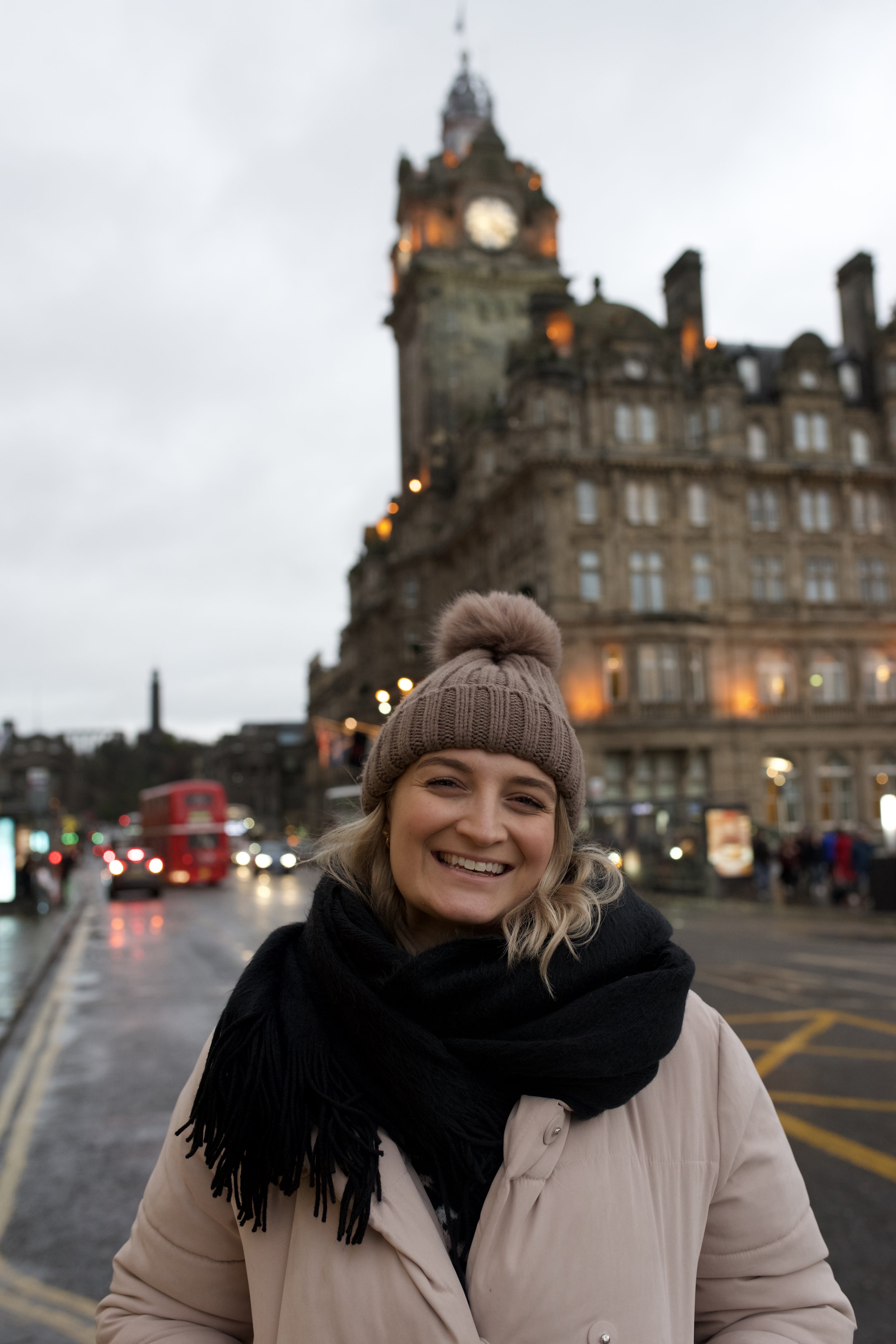 How to get around Edinburgh
Will you tram, bus it or walk?
If you're staying in the city centre, there is a direct tram you can get from the airport. It takes approx. 35 minutes, has free wi-fi and only costs £6 per adult.
The city of Edinburgh has a few hills, so if walking ain't your thing, there are plenty of buses to get you from A to B. It really is a lovely city to walk through though, and if you've got the time, I'd suggest walking the streets and exploring all Edinburgh has to offer. If not, there are also Taxis and Ubers that are super cheap in the city centre. You can read more about the transport system HERE.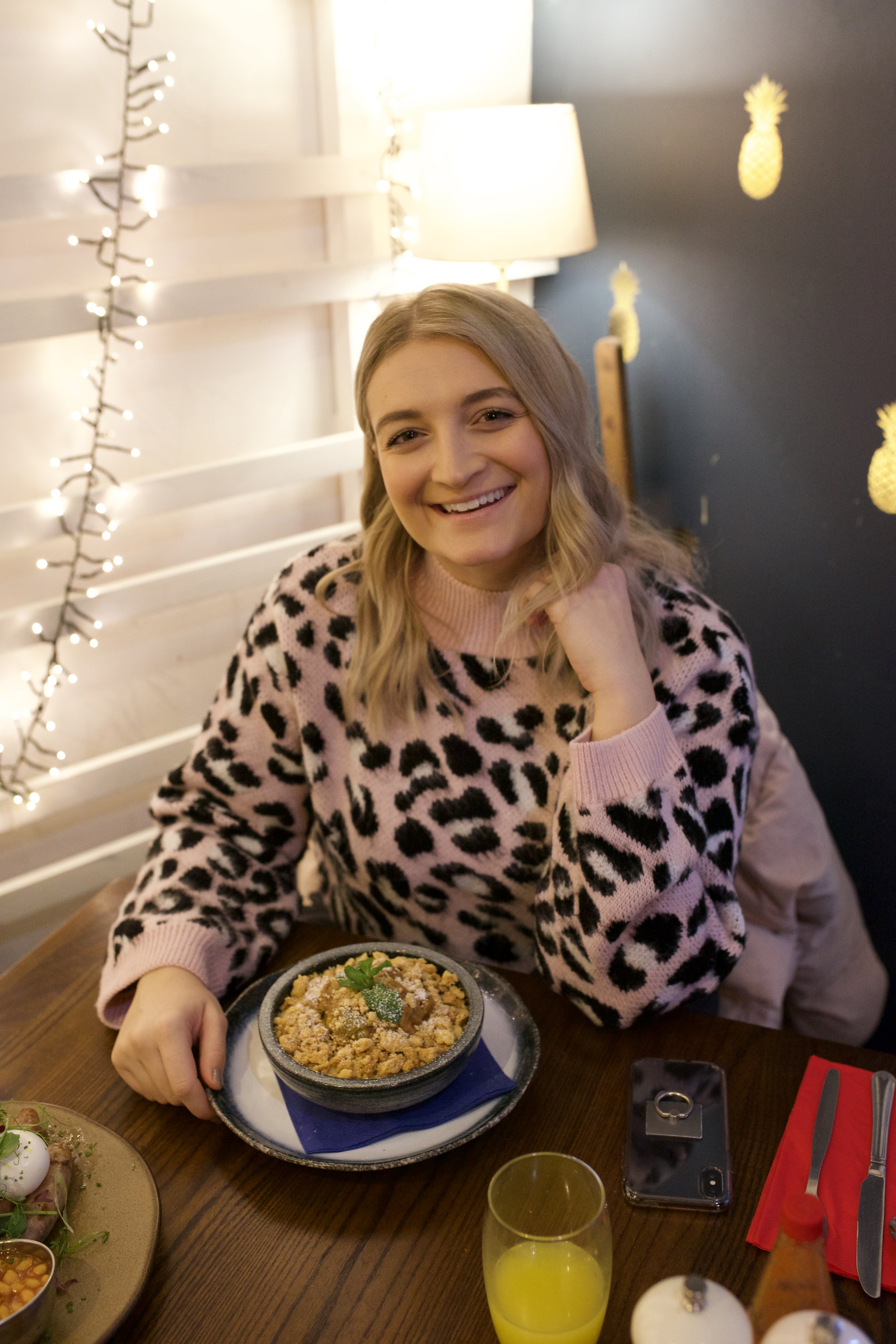 Where to eat in Edinburgh.
From brunch to dinner, there are so many options.
You could visit Edinburgh a million times, and still find somewhere to eat every single time. Around every corner is a new café, pub or restaurant just waiting to be discovered.
Breakfast: The Pantry in Stockbridge is the must-go place for brunch in Edinburgh. It fills up super fast on weekends (thanks to it's delicious menu!), so make sure you get there before 10am to nab a seat. It's a gorgeous café filled with a mixture of eclectic furniture, and has a super cool vibe with fairy-lights, pineapple motifs on the walls and a deep navy that gives a real vibe. I can HIGHLY recommend the porridge (the chef changes it daily, but I had apple and rhubarb) and Joe had the "Pimp my Fried", complete with haggis for those wanting to try the local Scottish food. Also, it's a dog friendly café which means HELLO DOGGOS! We had a beautiful lil pupper sit next to that wanted all the cuddles… my type of place!
Brunch: The Huxley is an absolutely buzzing place for brunch, and is really affordable for those on a budget who still want a delicious, "Instagrammable" breakfast. With bright airy windows, a complete bar and comfortable furniture, the Huxley is located in the West End, and is the ultimate brunch spot. Breakfast runs until 11:30am, and then brunch starts at 12 – both menus are great, but I'd suggest going for brunch as the menu is wider and includes breakfast cocktails (hello espresso martini!). The brunch menu changes seasonally, so you can go and try a new dish each time!
Lunch: Checkpoint was my favourite place we visited in all of Edinburgh. There's something about the up-cycled furniture, laid-back vibe and incredible staff that really stands out about Checkpoint. Between us we shared a few small plates of food, and had a few cocktails. I can confidently say that both were 10/10 – the hummus made in-house by their Israeli chef was a major standout. The cocktails are all so beautifully presented, all with distinct flavours that are very unique. My favourite was the Venetian Spritz, which was made with apertive select, prosecco, orange bitters, egg white, Edinburgh gin and topped with a ginger foam. DELICIOUS. Fun fact, most of the skirting and backboards are up-cycled with an old gymnasium floor, and the lights are from the Berlin underground and an old theatre – bloody cool.
Dinner: We were meant to attend Badger & Co for dinner after hearing rave reviews about it, but didn't make it. From recommendations, we've been told it's a great spot to eat and has a delicious menu. The above photos are those supplied, and I can't wait to visit there next time I'm in Edinburgh!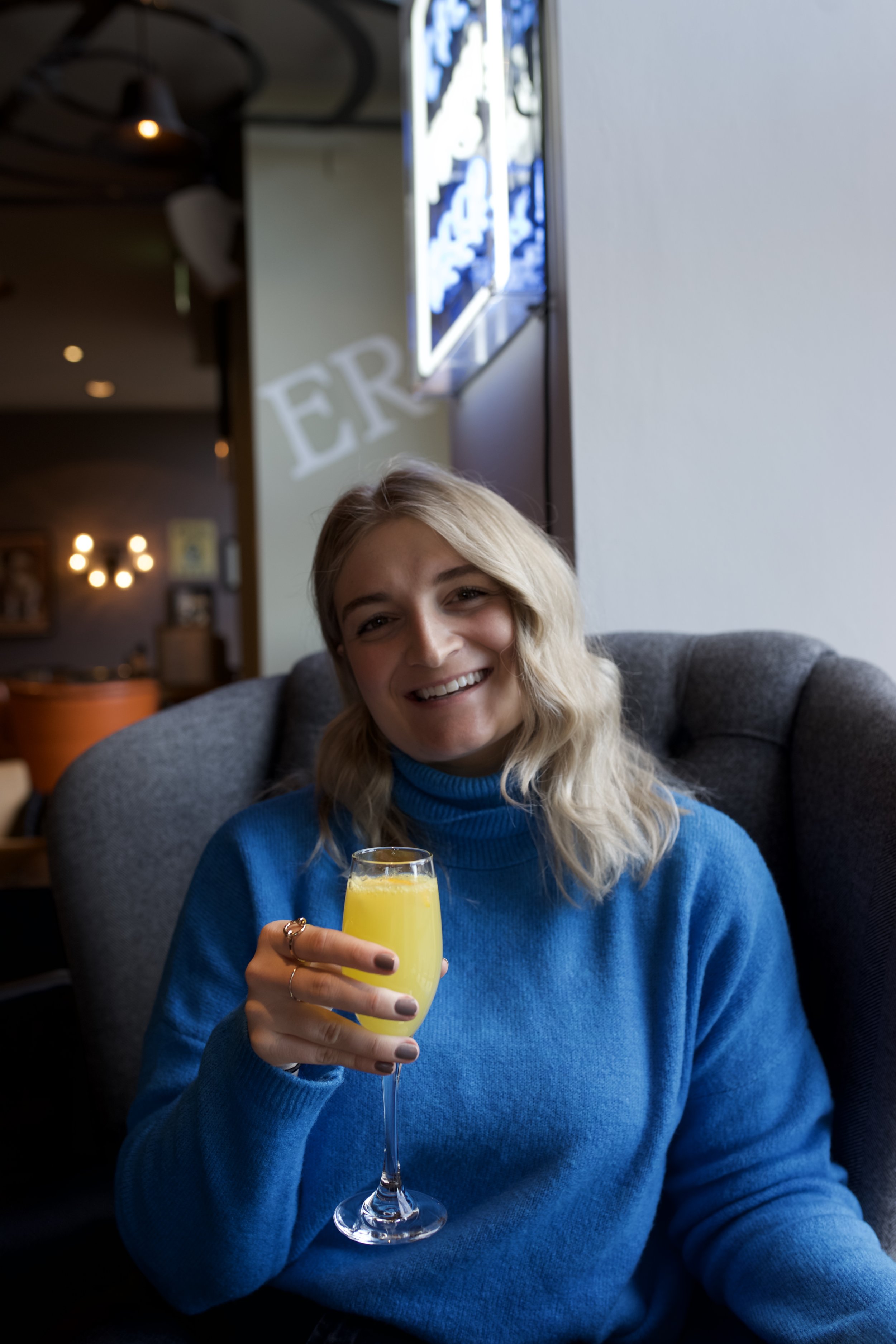 Where to drink in Edinburgh.
Pubs not your scene? The cocktail bars are incredible.
There are so many places to drink in Edinburgh, and we legit consumed a million cocktails – the things you do for blogging (#hardlife). Around every corner is a new pub or bar, meaning you'll never run out of options.
The biggest stand out was easily Candy Bar & Diner. I'm not kidding when I say it's the best bar in terms of affordability/staff/décor I've visited in the UK. They have two different menus, one with £4 cocktails (there are 13 of them!), and the other with their more premium cocktails, that range between £8-£10. We tried cocktails off both the menus, and to be honest they were all delicious as each other.
The place was really buzzing by 2pm on a Saturday, and was filled with both couples and large groups of women. It's a cocktail-lovers dream, and we were in heaven. The bar is set in a basement, but that doesn't stop lots of natural light coming in so there's no claustrophobic feeling. Our favourite cocktails from the Candy Bar & Diner included the #PFD (topped with lollies!) and Joe's favourite, the Frozen Vinto that was like a frozen raspberry slushie topped with enough fairy floss to feed a small army.
If you're looking for other places to drink in Edinburgh, the below were all personally suggested to me, and places I'll definitely be trying next time.
- Rabble: I've been recommended the "Italy's Big Toe" cocktail to try, and told the staff are brilliant and it's a gorgeous cocktail venue.
- Bramble Bar: The hidden bar in Edinburgh, with an extensive cocktail menu that has something to suit everyone.
- Panda & Sons: Another hidden underground bar; not the cheapest, but the theatrical flair that comes with the cocktails makes up for the price.
- Paradise Palms: Both indoor and outdoor seating available, a massive cocktail list and affordable. Also offers vegan & vegetarian cuisine.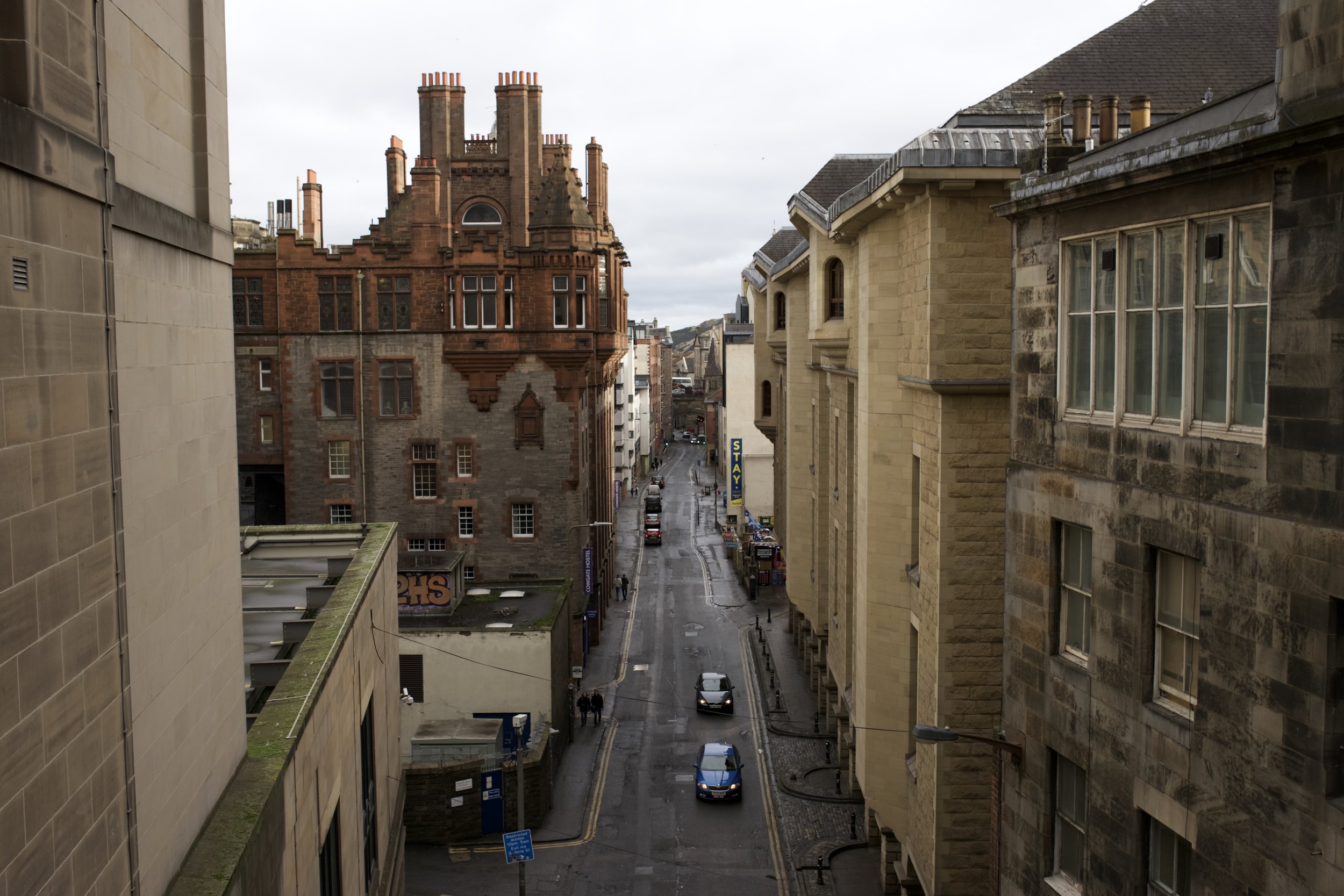 What to see and do in Edinburgh.
There is SO much to see and do in Edinburgh, and it'd be impossible to cover it all. If you're skint on cash, there are loads of free activities to do (#museumsgalore), and if cash isn't a problem, there are so many special experiences to undertake.
Our absolute favourite activity in Edinburgh was the Edinburgh Gin Distillery Tour. It is legit booked up MONTHS beforehand, so if you're even uhming-or ahhing it, book those tickets now. For just the tour (Gin Discovery Tour) it's £10, but I'd highly recommend the Gin Connoseuir tour, that we did and comes in at £25 per person. If you're gin-obsessed and want to learn how to make Gin, then the Gin Making Experience is £100 per person and meant to be fab.
On the Gin Connoseuirs tour, we had hilarious Phillip as our guide who talked us through the history of gin. It was no ordinary historical talk, with lots of laughs, hands-on (smelling every botanic that goes into Edinburgh gin) and some little-known tidbits about how their was a gin craze in the UK! If you're even mildly into history/gin/laughing then it's well worth the extra £15. After the chat you get to see the real MVPs, the distillery machines! Then, you're brought into an underground cavern where you get to try a whole heap of different gins.
We really, really loved the tour and were amazed at how our guide went above and beyond. At the end of the tour, you're given a free bottle of Gin Liquor to take with you. I explained we were flying and only had carry on, and had to decline the bottle, but Phillip very quickly said no worries and gave us a box of miniature gins, that were carry on approved! What a legend.
Edinburgh Castle: Recently voted the top UK Heritage Attraction in the British Travel Awards, Edinburgh Castle is a world famous icon. It's a must-see, and worth every penny. You can book online, and make sure you do as tickets sell out fast!
Arthur's Seat: This is an absolutely brilliant hike that only takes around 1-1.5 hour. It's one of four hill forts that dates back around 2000 years ago, and offers an incredible view of Edinburgh and it's surroundings. Free to walk up and well worth the sweat.
Royal Mile: This is the road connecting Edinburgh Castle to the Queen's residence in Scotland, Holyrood Palace. It's filled with traditional Scottish shops & pubs, and is a great place for a pub crawl!
National Museum of Scotland: Your typical (amazing) national museum, filled with art, design, science and artefacts from Scottish history throughout the ages. It's free entry with a donation box, and a really great indoors activity.
The Real Mary King's Close: This is a tour of what lies beneath the Royal mile – a series of hidden 'closes' where people worked, lived and died. It's a very eye opening tour that books up fast, so be sure to book your tickets well in advance!
Elephant House Cafe: This is the cafe where J.K Rowling wrote different parts of Harry Potter, and is a must-see for any HP die-hard fans. Also has great coffee and cakes!
Where to stay in Edinburgh.
From budget to luxury, there is somewhere for everyone.
We stayed in the Dakota Hotel in Edinburgh, which was located around a 15-20 minute drive from the city centre. You can read my full review HERE, but it was basically affordable luxury with the most comfortable beds in the world. Other options to consider also include:
Budget: The Murrayfield Hotel is located centrally, and you can get rooms for under £100 a night! Affordable and great value for money.
Moderate: Best Western Plus Edinburgh City Centre Bruntsfield Hotel is located centrally, and is a townhouse style hotel with contemporary touches. Free car park and wifi.
Splurge: The Balmoral Hotel is rather #1 on Tripadvisor, and is located where old town stops and new town begins. Great reviews and looks very luxurious.
Have you visited Edinburgh? I'd love to hear of your favourite places to eat and drink in the comments.